Clutches Are Good Until They Are Not!!
As most of you know lately Hunterworks started having our own belts made so we are even more concerned about belt failures than ever before, today is a perfect example.
A local customer with a 2016 Polaris General with 2054 miles on it emailed me that the top cogs on his belt had come off in a couple small places. Just a FYI no brand of belt ever loses top cogs unless the belt hits something, that is a constant. So in an email I told him that and he replied I have not have not been having any trouble until now. Luckily he lived only 15 miles from here and I told him to bring it to me on Saturday which I don't work on Saturday and we could get to the bottom of it.
The very first thing I noticed was the square pucks had worn the secondary some, not too bad but some. After a closer look at the belt and the top of his clutch cover, the rear one there was a screw at the top of the cover and it was clean as if something had hit it. Also on the belt in a straight line at that spot you could see where the belt was hitting the screw on top. Then the leading edge of the exhaust duct which has a very sharp edge had a slight irregularity on it in line with that screw.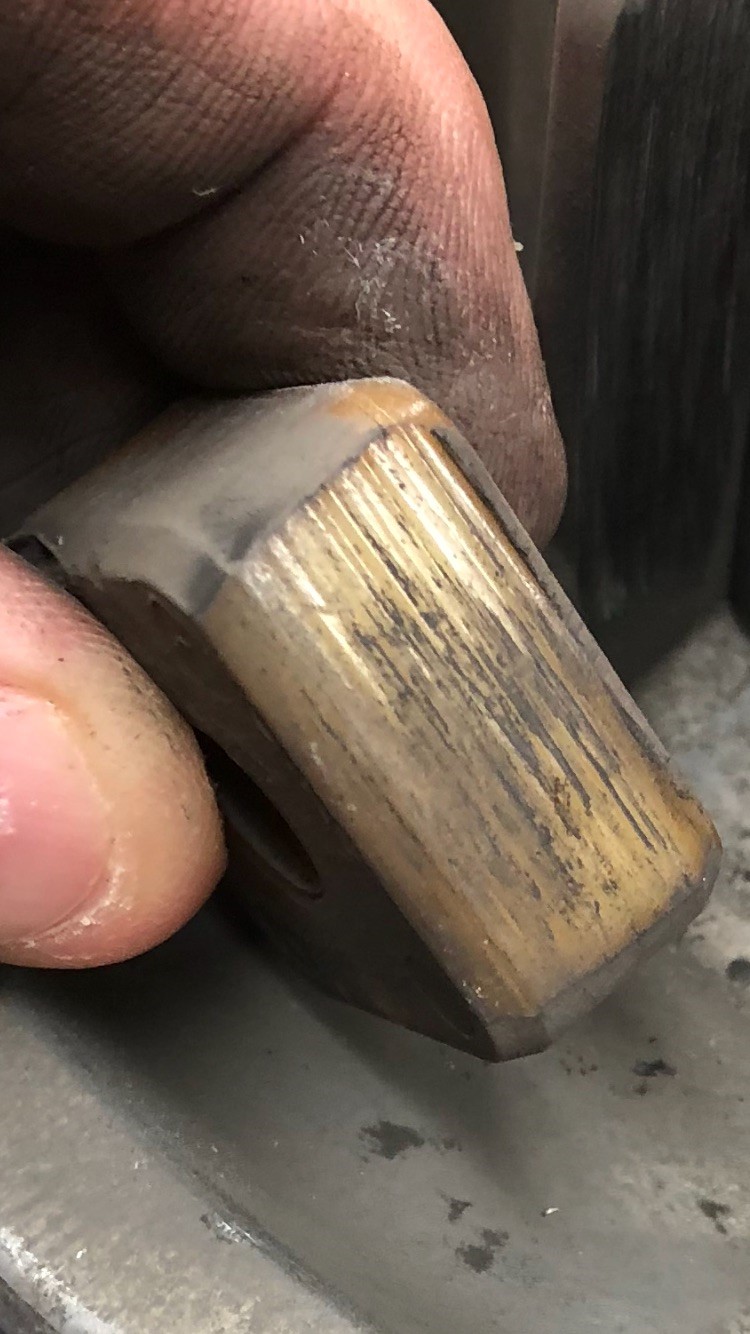 So at this point what we determined was the square pucks were not allowing his secondary to operate efficiently and on decel the excess of the belt goes to the top when the secondary can't close fast enough to keep the belt tight. Here is a couple pics of the belt, you can clearly see where the cogs have been hitting the screw, then something he did, some spot it got into, the belt hit the top of the cover hard and the sharp leading edge of that exhaust duct cut the cogs right off. His was mild, long before we made our own belts, I have seen this so violent it shredded the belt and the exhaust duct gets the leading edge ripped out. I keep pounding this in peoples heads, get our round rollers before this is you!!! Link to Round Rollers. Also, is shaft spacing gets off between the crank and transmission which is supposed to be 10.5" you can have a slack belt too and it will cause the exact same thing.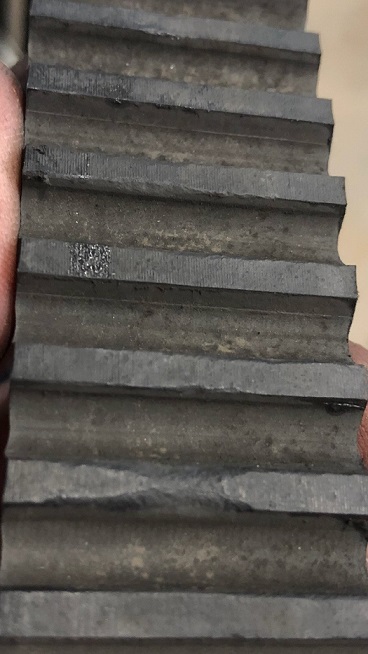 Also, for the record this General had 30" heavy tires, snorkels and a EPI mudder clutch on it. Tires taller than stock make the secondary turn faster than stock ones on decel, the driven clutch becomes the drive clutch on decel. Notice the grey build up on the secondary, that is dried muddy water. We are in MS you know, lots of mud guys around here!!! LOL
So I took his secondary apart, smoothed out the wear the square pucks made and installed a pair of our Secondary Rollers in it.
The customer and I both were satisfied this was his only issue and was reassembling it and I told him, we might as well take a look at your primary while we are doing this. A General has a one way bearing it, my opinion a cheaply made one from China and they actually fail often, but anyway it was not turning very well and the color of it was rather blue. So inspecting it further, I finally made the bearing slide over a bit, it slide too far so right off the bat I thought maybe his spider nut and spider in primary had backed off, but a closer look the plastic washer that goes between the bearing and rear of clutch was gone and the outside of the bearing had cut into the back half of the clutch. If that was not bad enough, with the bearing slide over, a part of the bearing that should be inside had came out and slide toward the rear. The reason it was hard to turn was the seal was gone, grease came out and was not turning well. He was living on borrowed time!!! I had noticed when driving it in the shop the clutch was loud. We discussed the best options and he chose to buy a new primary clutch which we had with a two way bearing. Another FYI, his EPI clutch kit had a Non-Engine Braking helix in it, so around 15 mph the primary would open up and the belt would drop down on the one way bearing making it do way more work than normal. Normally a engine braking helix keeps the primary engaged until around 5 mph, the clutch opens up, belt drops down on the primary bearing and it does the rest of the engine braking. I have been warning people not to do this but not everyone listens.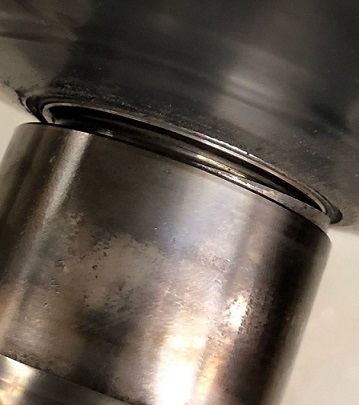 Whew, so he ended up with a new primary clutch, two new rollers to replace the square pucks that had almost ruined his secondary and another new belt. He also got two hours of FREE labor on a Saturday and all his parts at a smoking deal because he had one of our belts on it and I wanted to get to the bottom of it!!! The other reason for the deal was this story was perfect timing and I told him I was glad he lived near here so I could use this experience to write a tech article. He said "I am glad I lived near here to so I could get this fixed!!!"
Guess what? He had no idea he even had clutch trouble. The clutch was in good shape until it wasn't!!! "He said I am Electrician not a clutch guru!!" He also said, "By the looks of your wiring, your electrician sucks!" I said "It was me!!!" LOL
Moral of the story, 1. just because your belt fails in some way does not mean it is the belt, 2. square pucks in 16-19 model non-turbos are the devil!!! 3. Non-braking helixes in a vehicle that has a one way bearing in the primary will make it fail soon. Problems with a belt and to be honest most any brand belt are 99% of the time are not the belt.
Before you go blaming a belt failure on a belt, hopefully this and other tech articles we have done can shed some light on potential issues you might have that you need to look into. We are here to help you not just sell you stuff!!
This really has little to do with this but at same time it has everything to do with this. The customer told me this story. You can stop reading if you like, this is just a story and I will condense. As a electrician at one company where he worked they told this story to make them think when they were troubleshooting problems.
A business had a statue, pigeons pooped on it all the time, they wanted them to stop. They thought, lets shoot them, they tried just more came. A closer look they found spiders and the pigeons were eating the spiders, so they killed the spiders, more came and pigeons still came. A closer look there were small insects that the spiders were eating, so they tried to kill them, they kept coming. So why are the insects coming, finally they thought about a light that shined on the statue at night, it attracted the insects, which attracted the spiders which attracted the pigeons. They turned the light off and the problem was solved!!! If you have not caught on yet a CVT Belt is the pigeon in this story. I told him I was going to use this!!!
Todd